Dear Læser,

I have just arrived in LA to attend the 2016 CrossFit Games.
Not as a competitor, but to cheer on my atlhetes. (Yes, I work 1-on-1 with several of the best CrossFitters in the world like Kristin Holte, Thuridur Erla Helgadottir and Julie Foucher…and I would be honoured if you are a top level athlete and would like to work with me as well).
This is my third year in a row going to the CrossFit Games.
Apart from being here to cheer on and help my athletes, I am also here because of my work with PurePharma.
Every of those 3 years, I have been featured on their stand at CrossFit Games.
This year will our most awesome stand and setup ever (at least until 2017…because who knows what we will come up with next year).
This year we will be serving small but extremely tasty samples of juices, greens, smoothies, shakes, truffles and other heavenly morsels.
I will be there to answers questions about nutrition and health and will also do a few live Q&As with cool people like Julie Foucher. 
And the reason for serving all those tasters? For turning the PurePharma stand into a virtual smorgasbord of flavour, health and nutrition?
I have created 15 recipes for PurePharma using their SB3 probiotics, PR3 protein powder and D3 vitamin D capsules to make shakes, iced tea, smoothies, greenies, "truffles", dips, dressings and juices.. You can taste those recipes "live" at Games.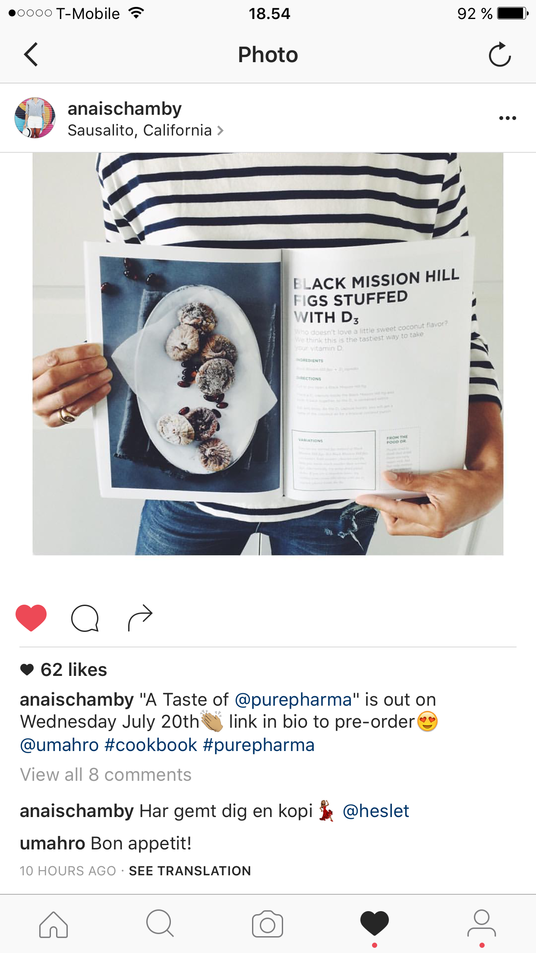 We put all the recipes in a free e-book, enabling you to make them on your own and in case you are not going to be at Games.
The E-book is completely free of charge and I think you deserve to get hold of it.
CLICK HERE TO GET THE E-BOOK AS SOON AS IT IS RELEASED
PST, PST, PST…
In case you do not already know, I have an agreement with PurePharma that all my customers, clients, newsletter readers and followers can get a 10% discount on all PurePharma purchases made through the PurePharma website.
Enter the rebate code umahro10 and you will get a 10% discount whenever purchasing at www.purepharma.com.
Thus, if you are already using fish oil, magnesium, vitamin D, probiotics and/or rice protein powder from PurePharma, you can now buy it at a slightly better price.
And if you are considering using fish oil, magnesium, vitamin D, probiotics and/or rice protein powder, then PurePharma is one of the few brands I recommend because of the high quality and thorough quality control in place.
PurePharma is one of the few companies I work with and recommend in the food supplement sector, because of the quality.
Fondest regards,
Umahro a.k.a. The Danish Food Doctor